After weeks of looking like pure crap the Little Super Mojave shed and is looking spectacular. I really want to see her in a few months when she's 300-400 grams
Well we are currently wrapping up our second week of pairing for the 2011 season and things so far are looking really good. Some of our older males are really getting the job done for us. I'm really looking forward to see some really cool snakes hatch out this spring. Really looking to see some recessive stuff pop out. I'd really like to see my Pinstripe go this year he's an 08 and still has yet to even lock with a girl.. I may have to put the old magic to him and try some tricks I have.. But its still early so no worries.
So I paired about 10 males and females last night woke up this morning to a couple of the old hates doing the dead.
With eggs still in the bator we have started the 2010-2011 breeding season. I've spent the last few weeks hashing out the pairing and have gotten 99.995% of the hammered out. So over the weekend I checked all the racks to make sure they are working right and as of tonight I have 12 pairs together. We are doing so really exciting pairings this year. Things like Super Pastel X Spider, Spider X Albino, Lemon Blast X well that a secret, Enchi X Bee..
We are looking forward to allot of really cool combo's are producing some even better base mutations..
Keep your eye's peeled.
Wow, So what has happened since the last time I posted? Well Lets see we hatched out this little gym our first Super Mojave.
We also hatched out some really nice spiders
And we currently have a new combo for us in the bator Pastel enchi's really looking forward to seeing them crawl out of the egg for sure.
On top of all that my wife and I have our first born son arrive two weeks ago so that is an adventure for sure..
Went on the 10-12th for the West Alabama Reptile Expo. Spent the weekend with some wonderful people and had a really great time at the show (both days). Sold a couple of animals made some people happy. In the end we were able to do a trade for this little fire male
This week is going to be filled with getting ready for the baby and getting breeding gearing in that direction..
Wish us luck this year we need it..
There comes a time in a Breeder's life that they take a look at their collection and what others are working with and the question get's posed, "Why don't I have one of those?". This happened with us not long ago. While talking to a friend we can to realize that not only did we not have a certain basic combo...but we couldn't even produce one for at least three years..
Well this simply will not do.. So I contacted Tim Johnson of Royal Morphz and sealed the deal on a little male.. Now if he grows good and breeds young..we'll see about producing some Sterlings this coming spring..
Once I've started getting some different combo's and multi gene animals into the collection it makes for some interesting conversations. While talking to a good friend of mine about future plans and breeding collection the idea of "Backup males" came up. These are males that will be bred to females along with other males. In our collection these are combo or super males this way we are assured to get a good mix of the same gene.

During this conversation I made mention of the fact that I needed a backup Pin male..Our pinstripe male hasn't bred for us two years in a row now (very frustrating), My good friend started to laugh and said you have a Backup Pin male. I assured him I didn't, till he reminded me we had picked up a male "Lemon Blast" last year..

I find that when I stop and think about it there are things we have in the racks that get me really excited about future production..Thing like breeding a Sugar female to a Killer blast or Killer Bee female.
In 2005 I got to see a morph that would kick off this huge obsession of mine. Adam Wysocki of 8Ball pythons posted a pic of his Pied Ball Python. I wanted one, craved one, my dreams were haunted with thought's of owning one. So in 2006 While trying to pay for a House, wedding, and looking for a job I talked my wonderful wife to be in to letting me spend insane money on a snake a 2005 Het Pied male. I found one here on this site for sale from Daniel1983 (if you're reading this man it's been a journey) so after forking out the exorbitant amount of 250.00 for a snake I had my path to hatching pied's. Then in 2007 I picked up a wee little Het female from NERD. My plan was to breed the two.
As the female grew so did my buying power so to speak and last year we picked up a 2008 Male pied.
I had a pied, my GOD was I happy.. Then this year..
Holy smokes I was doing a happy dance.. To see with my eye's a Pied Breeding right there in my tubs.. :banana::banana::banana::banana:
So Tonight things have come 3/4's of a full circle after starting with 1 snake and the dream of hatching pied I open a tub and see this
The Start of ovulation..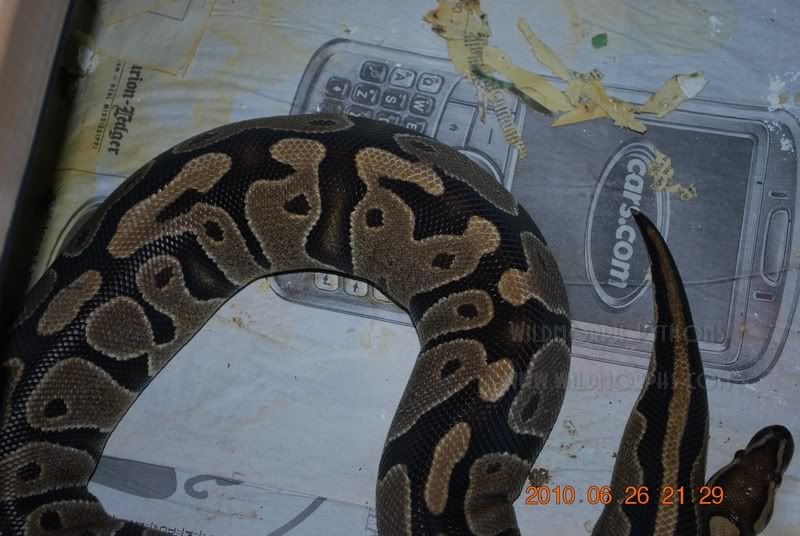 I can die a happy man now..
Well we have started hatching out some ball pythons
Our first clutch was a small three egg clutch but we got 1 normal and 2 lesser's so I'm happy. We still have some clutches on the was which is a good thing. I know I know quick post today and it's bee forever but I'm so busy that I rarely have time to sit and just type these days.